Welcome to the Coker Creek, TN
GPAA Chapter.
---
The next Coker Creek GPAA chapter meeting will be on




Sat June 20, 2015




on our Coker Creek GPAA property. This will be our Gold Festival and Kid's day. Details will be posted here with a link to all the information soon.

Directions are posted lower on this page. Always check this home page for last minute updates before you leave for any meeting or outing.

Preveiw our website update here.
---
ATTENTION!
The 2014-15 Tennessee General Recreational Prospecting Permit is posted on our forum. It is valid from Aug 27, 2014 to June 30, 2015.
You may also cut and paste this link to your browser:
http://cokercreekgpaa.com/forum/index.php/topic,2630.o
---
GPAA 2015 KNOXVILLE, TN
OUTDOOR, GOLD, GEM, AND TREASURE SHOW
Check the Forum for Details!
---
The 2015 Gold Festival and Kids day is Coming! June, 20 2015
Take a look Here for more information!
---
Tom and Kia Massie with some of our 2013 Coker Creek Chapter Officers.
---
If you are new here, please visit our Forum (please sign up first and choose a user name and password) for all the latest prospecting information in the Tri-State area. Click on the "SIGN UP" link on the top right of this page and follow the instructions, then click on the forum link and fill out the form. You will then receive our monthly newsletters. You do NOT have to be a GPAA member to join our forum and to attend our monthly chapter meetings. Our forum is not an internet chat room. It is a place to gain information about prospecting in the Tri-State area. We have hundreds of topics to search through!
Our Coker Creek GPAA chapter has new GPAA membership kits at a discount. If you want to join the GPAA and live near eastern Tennessee please email Chuck Pharis and he will tell you how you can get a one year GPAA membership and pick up your kit. You will not have to pay the shipping. We have done that for you! If you need to re-new your GPAA membership, we can help you do that and get a complete membership kit too! Chuck has the details!
------------------------------------------------------------------------------------------------------------------------------------------------------------------------------------------------------------------------------------------------------------------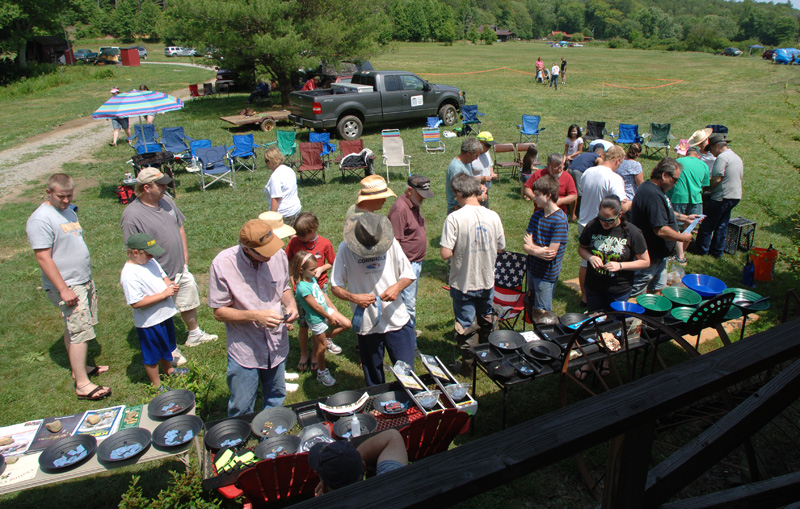 ______________________________________________________________
(Updated, Sept 10, 2014). As of August 27, 2014 TDEC has issued regulations for Recreational Prospecting in the state of Tennessee. Recreational Prospecting has been broken down into 2 categories. Class 1 (non-mechanized) and Class 2 (mechanized). No permit is required for all Class 1 prospecting, but you do need to read the permit and follow the state rules. Class 2 requires a TDEC General ARAP permit before you can operate any class 2 prospecting equipment in any waterways in Tennessee. This includes our GPAA Coker Creek leased property as well as all the US Forest Service (Tellico Ranger District) properties that we used to prospect on. For detailed information, please log into our forum and read all the topics posted about this new permit.
As always, when prospecting, do not dig into the banks, pick up you trash and fill in your holes. As local Prospectors, we need to be responsible and respectful of the environment and "Self Police" our areas. If you see a violation, be polite and tell them what they are doing wrong. If they continue, take photos and report them to the Rangers or TDEC.
Due to the issuance of the 2014-2015 General Recreational Prospecting Permit, the Tellico Ranger District Permit is no longer valid as of Aug 27, 2014 and will no longer be issued.
YES, there IS gold in the creek on our property. GPAA members may also use our property as a "base camp" when prospecting at other local locations. You MUST be a GPAA member to enter our property except on meeting days (the 3rd Sat of each month).

Please sign our Guest Book. One of our chapter members will have it available when you arrive.

For local weather information for a full week, click on the BLUE weather icon in the upper right part of this page. .

Cabin rental information is at the end of this page.
Beautiful fall colors at our property!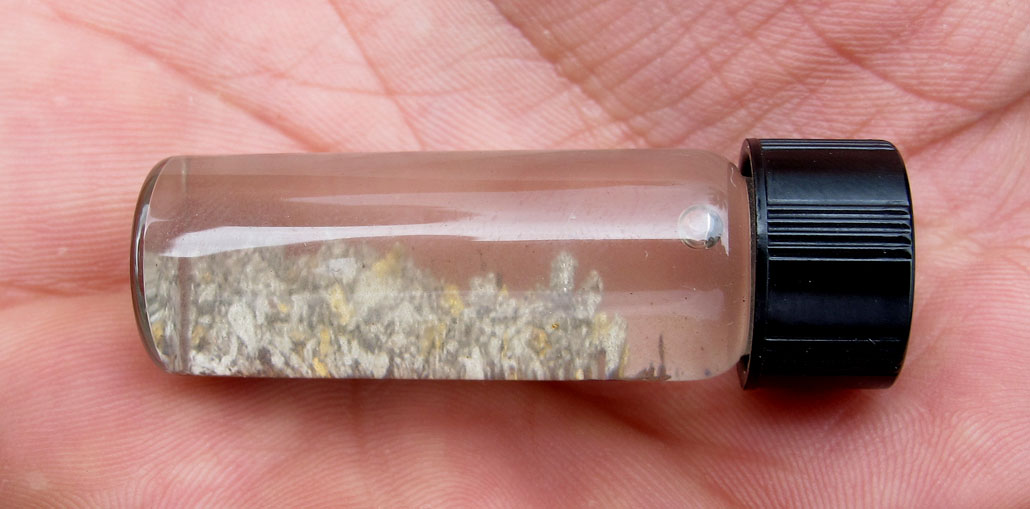 Yes, we remove mercury, lead and other harmful metals out of the Tennessee waters!
Our Coker Creek property on Hwy 68. The property is at the RED dot on the map below.
Our GPAA property is 3.75 miles south of the Coker Creek Welcome center on Hwy 68. Its on the left if heading south. It is marked with a 3 foot square sign. Enter ONLY on the road near the sign!
If you have a GPS our address is: 13431 Hwy 68, Coker Creek, TN. 37314. NOTE: Some GPS units need Tellico Plains as the city. We are 3 3/4 miles south of the town of Coker Creek on HWY 68. We are not in Tellico Plains.
N 35 13.399 W 84 19.936
We always try and have our meetings on our GPAA property. If the weather is bad, we move to the Ruritan Club. Here are the directions to the Ruritan club if our meeting is held there:
On Hwy 68, heading south from Tellico Plains, go to Coker Creek. (about 10 miles or so) Where the post office and little shops are at on the left, (towards doc rogers field), you take a right, just across the road from the shops. Many get lost here, do NOT turn left towards Doc Rogers! TURN RIGHT! Go about 1/4 mile, and take that first road on the left. That is Ruritan rd. Turn left towards the school, and the Ruritan club is the building on the hill to the right, just before the school, on your right.
All types of recreational prospecting are open to GPAA members on our property!
Yes, GPAA members can pan, sluice, high bank and metal detect!
If you want to dredge, please read the TN State permit rules on our forum.
Guests can only pan and sluice. NO exceptions!
How to join the GPAA
If you want to join the GPAA here is what you do: (updated 3/26/2015)
Contact Chuck Pharis our chapter President and we can sell you a new GPAA one year membership at a discount ($79.99). We have the kits in stock and we paid the shipping!
You may still join through the main GPAA office by doing the following:
1. Visit their website and check out what the GPAA is all about.
http://www.goldprospectors.org Click on the (membership) box then click on "GPAA"
2. Call the GPAA at 800-551-9707 (it is toll free) and tell them you want to join the GPAA. Tell them you want to join through the GPAA Coker Creek Chapter. After you join, ask for your GPAA membership number. Write it down and keep it with you. It might take 1 to 3 weeks to get your membership kit but all you need is your GPAA membership number to use any GPAA property. You may visit and use our property the same day!
Joining through our chapter gives our GPAA Chapter "points" towards GPAA items that we can put in our monthly fundraiser. One membership covers you and your Spouse, plus all your children (under 18). You can also join through their web site for $84.50 + shipping, but the only way to get points for our chapter is to call them on the phone and tell them you want to join through the Coker Creek Chapter!
Thanks, and I hope to see all of you at our monthly chapter meetings!
Chuck Pharis
When visiting our Coker Creek GPAA property:
PLEASE clean up the toilet and shower area when you are finished using them. Bring your own TP!
The shower is NOT heated, so be prepared!
Be advised that the toilet and shower are turned OFF during the Winter months so the pipes do not freeze. Do NOT try and use the toilet when there is no water!
Please do not leave trash on the property and respect the land. This is NOT a GPAA owned property. We lease this property.
Across the creek on rear part our club property are overhead power lines. Do NOT camp or go past those power lines. That is private property!
If you have any questions about the GPAA or our Coker Creek chapter, please contact me via email or call my cell. I am here to help you!
Chapter President: Chuck Pharis
Without your support and input, the chapter can't keep growing and thriving.
_____________________________________________________
Property camping and cabin rental information:
IMPORTANT NEW INFORMATION:
If you want to rent the cabin (photos are on our forum), or a RV or trailer hook up with power, sewer and water, call the land owner Jimmy at: 423-261-2145. Reservations are required!
We have a Flush toilet,(the toilet and shower are turned off during very cold weather so the pipes do not freeze) Please do not tamper with the system. We have a (non heated) shower, as well as 7 RV spots with full hook ups, (electric, water, sewer) $13.00 to $15.00 a day. depending on the size of your RV or trailer. (first come first served) CALL before you come!
There is also a rental cabin on site, that is just $65.00 a night, with a 2 day minimum, or $75 for one night. (Reservations needed) (sorry, no pets inside) The cabin sleeps 5, and is right at the edge of Coker Creek.
You must be a G.P.A.A. member to use the RV hook ups, camp, and rent the cabin. Any GPAA member may bring up to 5 guests to our property. Your guests can only pan and sluice.
This is a private leased property for GPAA members.
---
Chapter donations are always welcome. Contact: Chuck Pharis for more information.
Chuck Pharis, Coker Creek GPAA Chapter President
chuck@pharis-video.com